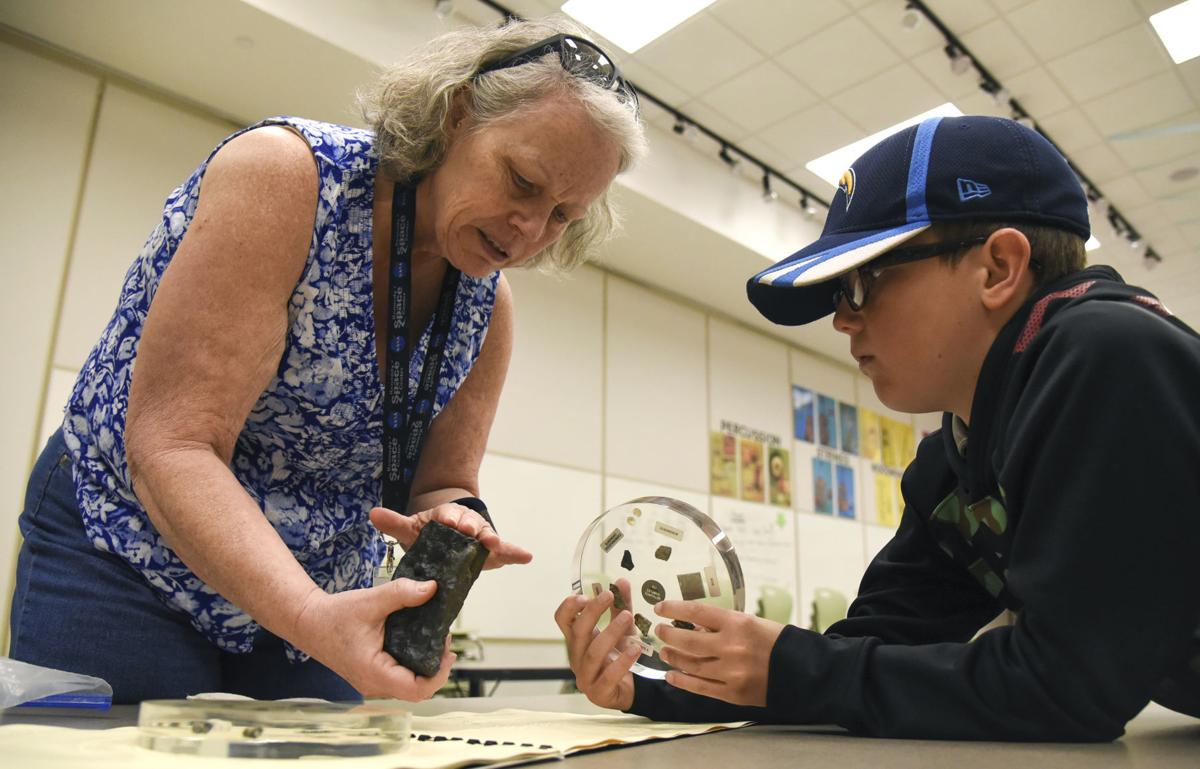 For 10-year-old Hunter Hartmann, the highlight of the last day of school was the chance to see real moon rocks.
"I loved it," Hunter said. "My dream is to be an astronaut."
"I'm going to go to the Alabama Space Camp when I'm 11. My mom promised me."
Hunter and other fourth-graders at Bozeman's Meadowlark Elementary School had a visit Thursday from Lynn Powers of the Southwest Montana Astronomical Society.
She brought a clear plastic disk containing moon rocks and moon dust, on loan from the Johnson Space Center, as well as her own heavy chunk of a meteorite.
"It feels like iron," Hunter said.
Powers, who works as a librarian at the Bridger Charter Academy at Bozeman High School, is as passionate about space stuff as the kids.
She explained things like how moon craters are formed when asteroids slam into the moon at 30,000 mph, and the differences between simple and complex craters.
Most of the moon rock samples are dark but one, anorthosite, looked light.
"We found anorthosite on the moon, and it's found in Montana," Powers said.
She has shown the moon rocks to students at Anderson, Sacajawea and Meadowlark schools, as well as 4-H kids. Saturday she was traveling to the Little Bighorn.
Powers said she has been working on a NASA grant to update curriculum for middle school students. She is happy to share moon rocks with kids.
She got hooked on space as a child, when her dad would wake up his kids early in the morning to watch U.S. space capsules making their fiery descents across the sky and they'd hear the sonic boom. In first grade she wrote a paper about the Mercury astronauts. Then a couple years ago she was thrilled when her hero, Jim Lovell, came to speak at Bozeman High.
"It's just so cool," Powers said.